In every country, the ravages of climate change fall overwhelming on the poor. The people who grow the world's food are the ones who starve in the aftermath of hurricanes and typhoons.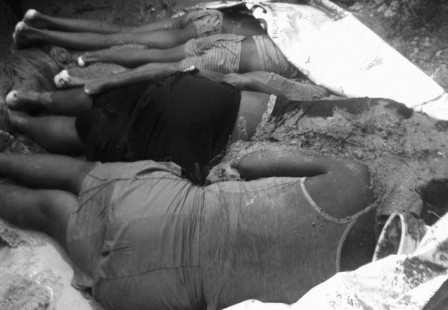 by Dady Chery
News Junkie Post 
While Hurricane Sandy ravaged the Caribbean and the US eastern seaboard, Typhoon Son-Tinh tore through the Philippines, China and Vietnam, killing more than 35 people. As expected from climate change predictions, floods were responsible for most of the damage to life and property. It should be noted however, that these ravages of climate change were, for the most part, unmitigated by social justice.
Those who perished from the mudslides, floods and violent waves were caught by surprise or lacked the wherewithal to move to higher ground. They were overwhelmingly poor.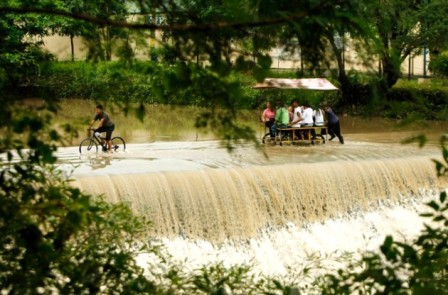 The mainstream news reports have focused principally on the US and China, as if gross domestic product (GDP) matters most to tropical-cyclone damage. Thus far [by Nov. 2] Sandy's death toll is: 97 in the US, 54 in Haiti, 11 in Cuba, 2 in Jamaica, 2 in the Bahamas, 2 in the Dominican Republic, one in Puerto Rico and one in Canada. Haiti and the US east coast were hit by a tropical storm, and their fatalities came mainly from the ranks of the poor. By contrast, Cuba was slammed with a category-two hurricane in a populous region including its second largest city of Santiago.
Cuba is still the only country that has named all its dead. Most of Sandy's other victims have died as nameless as livestock.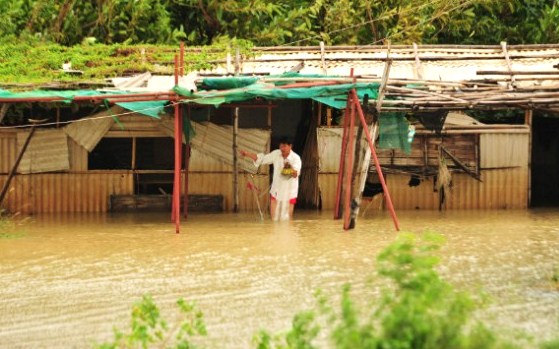 In the Philippines, Son-Tinh, locally called Ofel, was a tropical storm. Nevertheless the heavy rains triggered landslides and flooding that devastated the small islands in the center of the country and killed more than 27 people. At least 11 of the deaths were from drownings and landslides and 13 from collapsed building and falling trees. Over 11,000 people had to be moved to evacuation centers. Eight persons are missing — mostly fishermen at sea — and 19 were injured.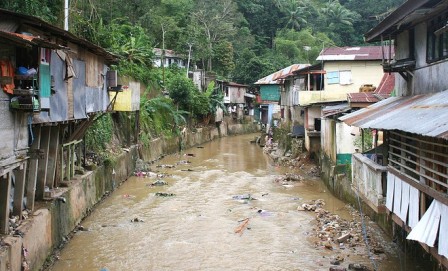 Son-Tinh became a typhoon after it crossed the South China Sea. From Saturday October 27 until Sunday, the storm battered the Chinese southern island province of Hainan with sustained winds at around 90 mph and even faster gusts, heavy rains, and high waves. Nevertheless, the Chinese Ministry of Civil Affairs reported the only casualties as being one dead and five missing after an engineering vessel sank near a cargo terminal in the city of Sanya.
Train service and shipping had to be shut down across the Qiongzhou Strait between Hainan island and Guangdong Province. About 126,000 people (10 percent of the affected population) had to be removed to temporary shelters before the storm, which destroyed more than 700 houses and damaged about 2,400 others.
The typhoon later touched down in China's Guangxi Zhuang Autonomous Region, from which nearly 10,000 people had to be relocated due to flooding of cities including Nanning, Qinzhou, Fangchenggang and Beihai.
In Vietnam, where Son-Tinh was locally called Storm 8, it reached the northern coasts on Sunday evening. Vietnam's disaster agency reported seven dead, six missing and 43 injured. The typhoon's more than 80 mph winds tore the roofs from more than 13,000 houses and forced the relocation of over 260,000 people although the storm's center did not manage a landfall. Instead the winds decelerated to tropical-storm force and Son-Tinh returned to sea by Monday.
The reverberations from these tropical cyclones will continue for a long time. Ironically, the starving peasants of the tropics feed a lot of the world.
In Haiti, where a corrupt governance together with USAID have systematically destroyed the agriculture, there was little left to damage before Sandy's arrival, despite the declarations of emergency and recent pleas for aid.
In China, however, Son-Tinh flattened crops covering more than 100,000 acres, and in Vietnam the storm destroyed nearly 47,000 acres of rice crops.
The famines are next. They will have little relationship to GDP but everything to do with social justice and climate change.
© Copyright 2012. reprinted by permission. Dady Chery is a journalist, playwright, essayist and poet, who writes in English, French and her native Creole. She is the Editor of Haiti Chery.